What are the advantages of an old lawnmower from The Old Lawnmower Company?
Quality cutting cylinders and blades, added to heavy rollers, achieve superbly cut and rolled lawns
Refurbished and thoroughly overhauled old lawnmowers are, on average, a third of the price of the modern equivalent
Superior build quality means reliability and low running costs
Petrol or Push mowers of character that have stood the test of time and still out-perform modern machinery
See 'Sales' for a selection of the mowers that we currently have on offer. When you buy a lawnmower from The Old Lawnmower Company you get a thoroughly overhauled, guaranteed machine, not a 'pig in a poke' from Ebay with all its subsequent problems. We know what they are like because we are the biggest buyers of old lawnmowers on Ebay, indeed, in the country, and many of our customers have bought mowers on Ebay and then come to us to get them put right!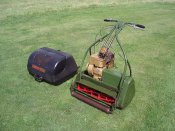 We are a family business (Rickyard Ltd), part of which, The Old Lawnmower Company, specialises in work on cylinder lawnmowers and small single cylinder engines, particularly older machines which many garden machinery companies are not able to work on.

We offer professional servicing and repair of old lawnmowers and machinery, with the knowledge and expertise to undertake full restoration projects - all at competitive rates.

Contact us for quality used parts - we offer Atco spares, Qualcast spares, Ransomes spares, Webb spares. Old lawnmower grassboxes a speciality - an old lawnmower must have a grassbox! Why not see if we have the lawnmower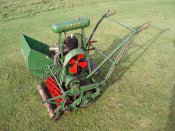 grassbox that you need?

Buy an old cylinder mower that has been thoroughly overhauled by Rickyard Ltd and you will get Classic British Engineering and a machine of character that is vastly superior to the modern equivalent, at a fraction of the price. All our mowers come with a First Season's Use Warranty (Conditions apply). We have a selection of vintage mowers and garden machinery for sale - contact us whether you are looking to buy or to sell old machinery.

We deal Worldwide, here are the 20 countries that we have sold mowers and spares to:- Andorra, Australia,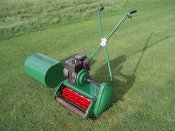 Belgium, Bulgaria, Canada, Denmark, Finland, France, Germany, Holland, Hungary, Italy, Luxembourg, New Zealand, Norway, South Africa, Sweden, Switzerland, USA.

Please note: new mowers labelled as Atco or Webb or new engines labelled as Villiers are made in China and have no connection at all with the real British Engineering on this website.

Mouseover to enlarge pictures